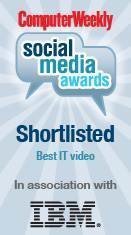 We really enjoyed making our Back Up; Don't Smash Up video, so it's great to find out how many people enjoyed watching it too!
Hundreds of thousands of people have watched, shared and 'liked' the film in which we asked people on the streets of London if they would be willing to smash their old laptops in exchange for a brand new Mac Book.  That makes us very happy.
We were also really happy to find out that the video was commended in the Best IT Video category at the Computer Weekly Social Media Awards last night.
Thanks to everyone who stopped in the street to take part in the video – especially our the two proud owners of new Macs whose backup was up to date and who were confident nothing would be lost when we took a mallet to their laptops.  And, of course, thanks to everyone who voted for us!
If you still haven't seen the clip, here it is again.  Keep watching and remember: back up; don't smash up!